Radiofrequency Skin Rejuvenation Services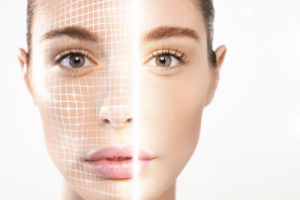 Do you want to join in on the cutting-edge radiofrequency skin rejuvenation services at NLI? Learn more about eMatrix treatments and what you can expect. Furthermore, this radiofrequency skin rejuvenation service can treat a variety of skin issues.
What does eMatrix Treat?
eMatrix is a revolutionary all-over skin rejuvenation. Moreover, it uses radiofrequency technology to pinpoint and correct problem areas of the skin.
An eMatrix treatment offers benefits such as tightening up sagging skin. In addition, it reduces the appearance of fine lines and wrinkles. It also has use in the treatment pigmentation concerns and scars. These results are a direct cause of the increase of collagen and elastin production.
eMatrix also offers a focal tip treatment designed for delicate areas of the skin such as the eyes and mouth area. This radiofrequency skin rejuvenation service is perfect for fine lines around the eyes and mouth area. These lines are commonly referred to as "crow's feet" or "smoker's lines."
How do Radiofrequency Skin Rejuvenation Services Work?
One of the great benefits of using eMatrix as a skin rejuvenation service is there is minimal to no downtime. In addition, your technician will advise you what skin care products are safe to use post-treatment. It is common to have small red dots on the treated area. Moreover, the spots generally fade after 2-4 weeks.
National Laser Institute offers medical grade sunscreen in their store to best protect your skin from sunlight after treatment.
What does eMatrix Feel Like?
eMatrix treatments are a relatively quick procedure. In addition, these treatments take only 10-20 minutes to give you your best results. It is common to feel a warm, pricking sensation during your treatment. A sunburned appearance or feeling is also common post-treatment.
When will I see Results?
You will notice positive results in the improvement of your skin's tone and texture after one treatment. It is recommended that you will require three to five treatments spaced four to six weeks apart for more dramatic results.
Schedule a complimentary consultation for radiofrequency skin rejuvenation services at NLI. You will be paired up with one of our expert laser technicians to discuss your specific skin care goals. From there, your technician will provide you with a customized treatment plan.
"National laser institute is a professional "art studio." I call it an art studio because they enhance beauty. You leave feeling beautiful on the inside and outside!! Fabulous!!" -Lynn H.
Interested in learning more about cosmetic injections or laser services? We offer your choice of virtual consultation from the comfort of your home or in person complimentary consults. Click here to schedule yours.