Wrinkle Reduction for Smooth Skin
Once in awhile, in the middle of an ordinary life, love gives us a fairytale. If you are planning your wedding, you already know looking your best on your big day is one of your top priorities. You want to capture the fairytale that will be forever immortalized in your wedding photos and videos. After you say yes to the dress, it's time to get your glow on in time for your pending nuptials. Say I Do to wrinkle reduction for smooth, glowing skin on your wedding day.
Many medical aesthetic wrinkle reduction alternatives involve swelling, bruising, incisions, and a hefty price tag. You may not have the time to take out of your busy schedule to recover from an invasive treatment. After all, the fittings and tastings can make planning your wedding feel like a full-time career!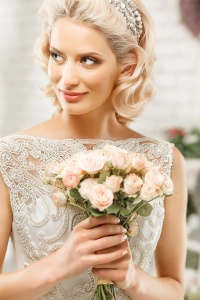 Wrinkle Reduction For Smooth Skin
If you want to get smoother skin, eMatrix wrinkle reduction will become your new BFF. This FDA approved method for reducing creases in your skin uses radiofrequency energy to smooth fines lines and wrinkles. The key to improving the appearance of wrinkled or loose skin without surgery is to trigger the production of fresh collagen. Collagen is what makes skin youthful, supple and elastic. 
eMatrix wrinkle reduction works by releasing radiofrequency energy deep into your skin. The heat that builds up in the tissue stimulates the production of new collagen instantly, and over time. This results in smoother and younger looking skin.
eMatrix wrinkle reduction works much differently than laser treatments. While lasers use light to target the layers of your skin, eMatrix gently heats your skin below the surface, safely smoothing your skin without damaging it's surface. eMatrix wrinkle reduction is safe for all skin types and it's virtually pain-free. Your treatment can easily be done during your lunch hour, so there is no need to take time off from work or social activities.
The treatment can be done around the eye area, mouth, jawline, neck, cheeks and full face. Your results will be noticeable immediately, but a series of treatments spaced several weeks apart are recommended for optimal effects. Reason being collagen remodeling can take up to 90 days, so results appear gradually.
eMatrix wrinkle reduction is a great option for the bride-to-be who wants to refresh her appearance and take years off of her face without undergoing surgery or injections. You can go back to work and resume your normal routine right away, and no one will know you have had anything done. Without creating wounds or scars, eMatrix wrinkle reduction uses Radiofrequency to diminish wrinkles and greatly improves your skin's natural glow.
To get your wedding day glow on, we invite you to visit the National Laser Institute Med Spa. Visit our anti-aging academy for deeply discounted rates on treatments or receive your treatment in our med spa by the experts that teach doctors, nurses and laser technicians privately. Call 480-290-7333 or click here and receive your complimentary consultation with one of our expert skin care specialists. Become a beauty insider and reserve your appointment now! Experience eMatrix wrinkle reduction at the National Laser Institute Med Spa to enhance the beauty of your skin.