Home Laser Hair Removal Safe?
Recently, at home laser hair removal devices have become available. However, these devices only provide users with modest hair reduction because they are cosmetic-grade. There is also no long term research that has proven the efficacy or safety of these at home devices. For the safest and most effective laser hair removal, it's best to trust a medical aesthetic expert using an FDA-approved medical-grade laser. Continue reading and we'll show you how laser hair removal works.
How Does Laser Hair Removal Work?
During laser hair removal, a laser beam is targeted at individual hair follicles. The intense heat of the laser damages the hair follicle, which over time, stops hair from growing back. Laser hair removal is most effective for people who have light skin and dark hair. Laser hair removal slows hair growth, reduces the number of hair follicles that are actively growing hair, and over time completely removes unwanted hair. Common treatment locations include legs, underarms, upper lip, chin and bikini line.
Hair color and skin type influence the success of laser hair removal. It is important that the hair is darker than the skin. The reason is because the laser beam targets the pigment in the hair. If you have light hair, laser hair removal will not be effective because the laser can't "see" the lighter hair.  Recent advances in laser hair removal technology have made laser hair removal an option for clients with darker skin. However, laser hair removal treatment options for lighter hair will require more research to be safe and effective.
Free Laser Hair Removal Consultation
Before your laser hair removal procedure, you will receive a complimentary consultation to determine if you are a candidate for treatment.  During your consultation, your laser technician will:
Review your medical history, including medication use

Discuss risks, benefits, and your desired results

Discuss a treatment plan and provide you with individual treatment pricing and package options
Your laser technician will provide you with specific tips to help you prepare for safe and effective laser hair removal.
Pre Laser Hair Removal Treatment Tips
Avoid the sun. Sun exposure will increase the risk of side effects. If you have a tan, either from sun exposure or sunless tanning products, wait until the tan fades completely before undergoing laser hair removal

Avoid plucking, waxing and electrolysis. These hair removal methods can disturb the hair follicle and interfere with laser hair removal

You should shave so that the laser only targets the hair in the follicle below the skin and not above the skin
What To Expect During Your Laser Hair Removal Treatment
You'll be provided with goggles to protect your eyes from the laser beam. Your laser technician will press a hand-held laser instrument to your skin. A cooling device on the tip of the instrument is used to protect your skin and keep you comfortable during your treatment.
When your laser technician activates the laser, you will feel the sensation of cold from the cooling device.  If you are having a small area, such as the upper lip, treated – your treatment may only take a few minutes. If you are having a larger area, such as your legs, treated – your treatment may take longer.
Post Laser Hair Removal Treatment Tips
Immediately following your treatment, redness and a small amount of swelling can occur. To reduce any discomfort, apply ice to the treated area. Be sure to avoid UV exposure and when your skin has healed always use sunscreen rain or shine.
A series of laser hair removal treatments are recommended. Typically 6-10 treatments are needed for optimal results. However, the number of treatments depend on a variety of factors including the amount of hair in the area, skin tone, and frequency of treatments. Some clients may need more treatments, while others will need less. You will start to see results after about your third treatment. The hair will stop growing completely in some places, while other areas will take longer to grow and come in thinner and sparser.
Is At Home Laser Hair Removal Safe?
It's best to avoid at home laser hair removal devices because there is no long-term research that can compare their efficacy or safety.  The U.S. Food and Drug Administration has defined at home laser hair removal devices as cosmetic and not medical, which means they don't get the same level of quality assurance as medical-grade devices. The added risk for at home laser hair removal devices include potential eye injuries from the flashing light.  
Choose to get your laser hair removal with medical-grade FDA approved laser with your treatment performed by a licensed medical aesthetics provider. Beauty insiders trust the laser hair removal technicians at the National Laser Institute Med Spa because they are experts who teach physicians, nurses and laser technicians from around the world the Gold Standard to perform the most advanced laser hair removal techniques.
Become a beauty insider and reserve your appointment at the National Laser Institute Med Spa! Call 800-851-0969 or click here to schedule your complimentary consultation. Our medical aesthetic dream team is ready to work together with you to achieve your dream results!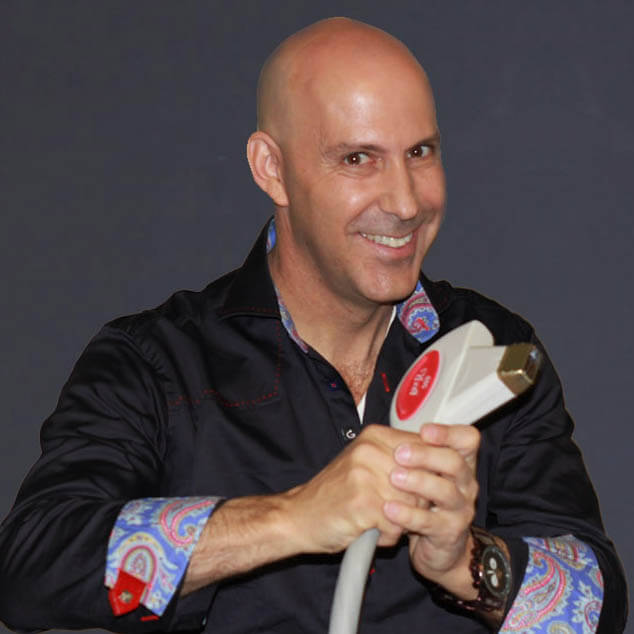 Louis Silberman
Louis J. Silberman is the CEO and Co-Founder of National Laser Institute, the pioneer of the medical aesthetics training industry and one of the largest educators in the country.