Restylane Hand Rejuvenation
Have you ever noticed actors in Hollywood wearing gloves at events like the Oscars? Often it's because they are receiving hand rejuvenation therapy to reduce the appearance of wrinkles, age spots, and veins. Over time, the quality of the skin changes – collagen and elastic fibers disintegrate, and the spread and function of the body's own hyaluronic acid change, making the skin drier, rougher and less elastic, especially on the hands.
When you see a celebrity undergoing hand rejuvenation therapy, gloves are used to protect the skin and cover the hands as they heal. This type of therapy can be painful, expensive and require many treatments.  In today's blog we will reveal the three ways to take care of your hands. We will also show you how hand rejuvenation therapy does not need to be expensive, painful, or take a long time to see results.
Three Ways To Get Younger Looking Hands
1)Moisturizing Creams
A hand cream that replenishes moisture is a vital aspect of a daily skin care regimen. A high quality hand cream should replenish your skin and also maintain a healthy, protective skin barrier. Brands like SkinMedica, Rhonda Allison and PCA Skin offer a wide range of anti aging creams, including moisturizing and protecting hand creams.
2)Cosmetic Treatments
Cosmetic methods for improving the skin on your hands will rejuvenate your skin from the outside in. Photofacials are a light based treatment that will erase age spots, boost collagen production, and smooth wrinkles. Other cosmetic treatments include the use of creams with active substances such as Vitamin A and Vitamin C, which reduces pigmentation and boosts collagen production. Depending on your desired aesthetic outcome, cosmetic methods can be used in tandem with clinical treatments to achieve optimal results.
3)Clinical Treatments
Cosmetic beauty products treat the skin from the top layer of skin. Whereas, clinical treatments treat the skin from below the surface of the skin. Hyaluronic acid improves your skin from within, affecting the outside structure and tone in a beautiful, natural, non-invasive way. This treatment is called Restylane hand rejuvenation therapy, which involves microinjections of stabilized hyaluronic acid into your skin. By implementing Restylane hand rejuvenation therapy, your skin's hydrobalance will be restored, elasticity will be enhanced, and your skin will be smoother, softer, and more youthful looking.
Restylane Hand Rejuvenation
Restylane hand rejuvenation therapy can provide you with immediate results. After just one session, your hands will be looking more youthful. One treatment alone is like using a whole jar of expensive cream, but with instantaneous effects. Our clients are thrilled with the results.
The skin on the back of your hands is very different from the skin in the palm of your hands. There are no hair follicles and your skin is thicker, which makes the skin on the palm of your hands more durable than skin elsewhere on your body.
Your hands are exposed to a lot of wear and tear. Other than your face, they are the body part constantly exposed to the elements. Daily UV exposure and use of your hands contribute to skin dryness when the natural fat in the skin barrier starts to diminish.
Up until recently, it has been a challenge to make the hands look younger, and contemporary treatments have often not provided satisfactory results. Now there is a scientifically proven and effective treatment using microinjections of Restylane Skinboosters. When this FDA-approved stabilized hyaluronic acid is injected into the skin, it delivers deep skin hydration and lasting improvements to the overall quality of the skin. By moisturizing the skin from within, it improves the skin's structure and elasticity.
Results after Restylane hand rejuvenation therapy will provide your hands with:
Diminished appearance of veins

Improved skin tone and lustre

Increased skin elasticity
Lasting Deep Skin Hydration From The Inside Out
Restylane hand rejuvenation is a brand new approach to nourishing your skin formulated to deliver deep skin hydration and lasting improvements to the overall quality of your skin.
The hydration effect builds up gradually and subtly. While some may see results after just one treatment, for optimal results, you should follow the treatment protocol advised by our clinical practitioners. The exact number of sessions may vary depending on skin type, which products are used and the areas treated.
Restylane hand rejuvenation therapy creates youthful skin by gently and naturally smoothing your skin from the inside. It works by increasing the hydration within your skin to provide lasting moisture and improve the surface of your skin.
Hydrating Micro Injections
Each Restylane hand rejuvenation treatment involves a series of hydrating microinjections of long-lasting hyaluronic acid, also called stabilized hyaluronic acid (HA), a water-loving substance found naturally in the body that maintains hydration in your skin.
Stabilised hyaluronic acid is a soft, gel-like substance that absorbs water and brings deep skin hydration to the treated areas, making it firmer, more elastic and smooth. These qualities are what youthful skin is made of.  We invite you to experience Restylane hand rejuvenation to turn back the hands of time for your skin.
Experience Restylane Hand Rejuvenation for Younger Looking Hands
Restylane hand rejuvenation therapy will improve the general skin quality of your hands. A typical treatment program using Restylane involves three initial treatment sessions scheduled 2 to 4 weeks apart. The initial 3-treatment program is done once and after that one treatment about every 6 months is recommended.
The National Laser Institute Med Spa offers a variety of medical grade skin rejuvenation products for radiant, youthful skin like SkinMedica, Rhonda Allison and PCA Skin.  Many of these products go hand-in-hand with our advanced cosmetic laser, radiofrequency, and IPL services. To find out what product or service would be the best fit for your skin, call 800.851.0969 or click here and receive a free consultation with one of our expert skin care specialists. Ask us about the benefits of Restylane hand rejuvenation therapy and what it can do for your skin.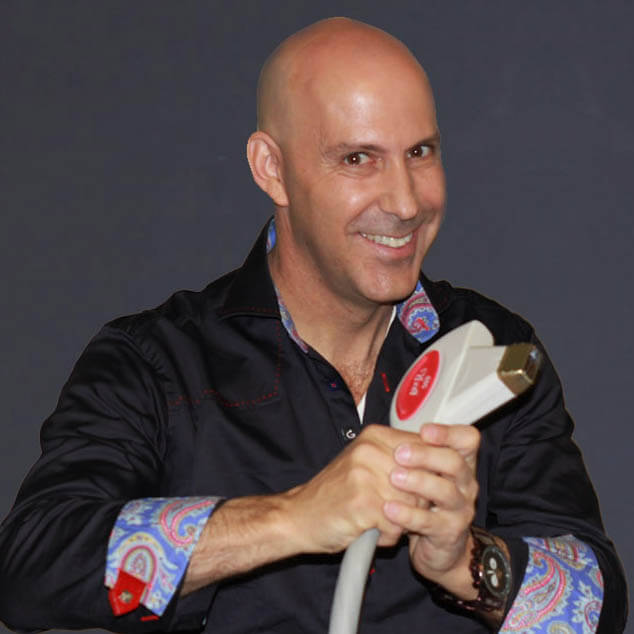 Louis Silberman
Louis J. Silberman is the CEO and Co-Founder of National Laser Institute, the pioneer of the medical aesthetics training industry and one of the largest educators in the country.