Photofacial or eMatrix?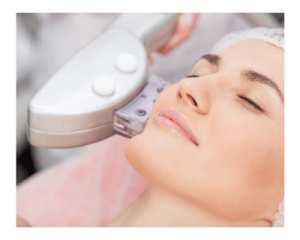 Thinking about getting a Photofacial or eMatrix treatment? Find out which treatment is best for your skin care goals. Are you looking to treat sun damage or overall facial rejuvenation? Whatever the reason for a Photofacial or eMatrix procedure, learn more about what each treatment offers.
Photofacial or eMatrix
Photofacials are best used to treat the signs of general aging and photoaging. Photoaging simply refers to the damage your skin receives from the sun or artificial UV light.
eMatrix treatments are best used to rejuvenate the skin overall.
Treatments: Technology Used
Firstly, Photofacials use IPL, intense pulsed light, to penetrate deep into the skin. With this in mind, IPL Photofacials use a non-ablative laser. Therefore, this means it works deep within the skin and leaves the surface of the skin unharmed. In addition. this treatment boasts results such as an increase in collagen and elastin production.
Unlike IPL technology, eMatrix uses radiofrequency technology to penetrate into the skin. In addition, it is a skin resurfacing procedure. Moreover, this means that it removes a very tiny layer of skin. Overall, this also produces results such as increased collagen and elastin production. As a result, the skin becomes tighter. Furthermore, fine lines and wrinkles fade away.
Downtime
Due to techniques used, Photofacials are a fast, painless process. In addition, it is recommended that you will need anywhere between three to six treatments for the most dramatic results. Furthermore, there is no downtime.
eMatrix treatments require some downtime from skin care. As a result, it is recommended to take three to five days off from using skin care products. Anywhere from three to five treatments are required for the most dramatic results.
Photofacial Benefits
Treats rosacea
Gets rid of sun damage
Treats broken capillaries
Reduces age spots
Decreases appearance of freckling
Diminishes fine line and wrinkles
Shrinks your pores
Tightens your skin
eMatrix Benefits
Rejuvenates delicate areas like the eyes
Shows a decrease in skin puffiness
Plumps sagging skin
Gets rid of fine lines and wrinkles
Treats melasma
Improves texture and tone
Treats stretch marks
Reduces scars and acne scarring
If you have interest in having a Photofacial or eMatrix treatment, schedule a consultation. Firstly, our expert laser technicians will discuss with you which treatment best fits your skin type. Then, you will be able to discuss your specific skin care goals as well. From there, the technician will construct a perfectly personalized skin care plan for you!
Interested in learning more about cosmetic injections or laser services? We offer your choice of virtual consultations from the comfort of your home or in person complimentary consults. Click here to schedule yours.