Rejuvenate Skin: Spring 2015 Makeup Trend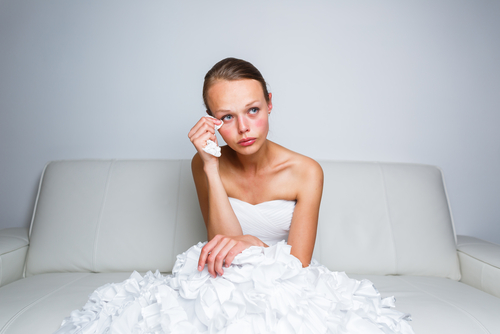 Spring 2015 Makeup Trend: The Crying Look
After a good cry, the last thing you want is to be seen.  After all, you're feeling vulnerable. The telltale signs of red eyes, flushed cheeks, and swollen lips will superfluously alert others to your delicate condition: and that's embarrassing! The solution is normally to splash your face with cold water to reduce redness and swelling and present a brave face.  But have you ever had a really good cry and just happened to walk past a mirror afterwards to see a fresh faced glow about you?  As crazy as it sounds, 'the crying look' is beauty's next big trend that emulates how you look after a good sob.
Spring 2015 makeup trends as seen at shows such as Altuzarra and Derek Lam are all about this glowing and semi-monochromatic nude look in shades of pink around the eyes and on the cheeks and lips.  The look is minimalistic with no eyeliner or lip liner, and minimal, if any, mascara.  Use eyeshadow, blush, and lipstick in shades of icy pink, strawberry cream, and glowing pink. The key to this look is a flawless complexion, a plump lip, minimal eyes, and thick beautiful brows.
For most of us, pulling off a nude look can be pretty daunting.  If you need a boost of confidence, the key to making this look work is to create a great canvas by priming your skin to rejuvenate it.  Chemical peels are one of the best ways to help you achieve your skin rejuvenation goals and are particularly effective when used in conjunction with laser treatments.  Rejuvenate skin with a chemical peel to improve uneven skin texture and tone, dull or dry skin, fine lines, and wrinkles. Then follow with a laser treatment like eLight or eMatix, to reveal new skin giving you a refreshingly flush-faced look.  Finally, for an added boost, plump your lips with Botox or Dysport.
Boost Confidence and Rejuvenate Skin
Do you want to boost your confidence and rejuvenate your skin? Allow our expert treatment consultants to guide you through the chemical peel and laser treatment process.  At National Laser Institute, you can expect luxury treatments without the luxury cost: chemical peel treatments start at just $100!  NLI is leading the anti-aging revolution as the premier educational facility in the country, training physicians and nurses from all over the world in advanced medical aesthetic technologies including laser, IPL, and cosmetic injectables. Visit our training institute for deeply discounted rates on treatments or receive your treatment in our med spa by the experts that teach doctors, nurses and laser technicians privately.
Your skin will greatly benefit from the right laser resurfacing treatment. Our staff always take time in answering your questions to determine which treatment is best for each individual.  We would be glad to answer your questions personally. The National Laser Institute Med Spa offers non-obligation consultations.  To find out what product or service would be the best fit for your skin, call 800.574.8377 or click here and receive a free consultation with one of our expert skin care specialists.