Lip Injections Dallas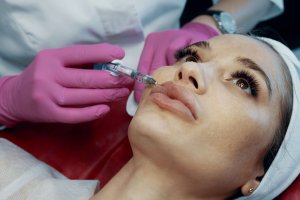 Many people desire fuller, sexier, plump lips. Depending on your facial structure, full lips can add a whole new look to your appearance. In addition, fuller lips can help decrease the appearance of lines and small wrinkles commonly present around the mouth. For dramatic results or subtle changes, there are now many different options for lip augmentation. Come into NLIMedSpa for your free consultation for lip injections in Dallas. 
What are Lip Injections?
Lip injections are a procedure that increases the fullness of your lips, most commonly using a lip filler. Although, full lips can be achieved with a wide range of injectable treatments outside of filler including fat injections and Botox injections for a less-dramatic result. Botox and fillers are non-invasive, non-surgical procedures with no downtime after treatment! As a result, you can ultimately walk out of your quick appointment and go about your day. 
What is Filler for Lips?
Today, the most common lip injections are produced using a hyaluronic acid-base. Hyaluronic acid is a clear, gel-like substance naturally produced by your body. By manufacturing and injecting this back into the lips, you are able to restore the fullness that diminishes as we age. There are many families of lip fillers. However, the most commonly used lip injections in Dallas at NLIMedSpa are Juvederm and Restylane. 
Most Common Lip Fillers
Juvederm 

Restylane 

Radiesse

Sculptra
Side Effects of Filler:
Bruising and prolonged swelling

Lumps and bumps

Infection 

Tissue loss 

Scarring or stiffness in the lips 
What is Botox for Lips?
Botox injections are not meant for plumping the lips and are administered differently. Made from Botulinum toxin, Botox helps block nerve signals to muscles. As a result, when Botox is used for lip injections, it is meant to produce a "lip-flip" also known as a "lip-pop". This is a great alternative for those looking for a less dramatic effect for a fuller appearing upper lip.  Above all, our experienced lip injectors in Dallas specialize in using Botox and can guarantee great results.
Side Effects of Botox:
Numbness and bruising at the injection site.

Swelling which will cause your lips to appear larger than expected.

Tenderness near the lips and mouth. 

Headache and nausea. 
Filler or Botox for Lip Injections Dallas
In conclusion, filler and Botox both have different purposes for lip injections. Fillers are your choice if you are looking for the full, plump, sexy set of lips. Botox is the best option if you want to add a less dramatic look while still adding volume to the upper lip.
Interested in learning more about lip injections in Dallas? We offer your choice of virtual consultations from the comfort of your home or in-person complimentary consults. Click here to schedule yours