Anti-Aging Treatments Trending For Men
Have anti-aging treatments for men become a thing? It's been a year since we filmed Proof Men Are More Attractive As They Age. At the time, we revealed men were not doing enough to take care of their skin, even though they appeared to be aging well. But the tide is turning. Over the past year, while only 9.5% of the total cosmetic procedures performed in the U.S. were cosmetic procedures for men, the number of men getting cosmetic procedures has grown by 325% since 1997, according to a recent article in GQ.
As a man, I can tell you, anti-aging skin care can touch a nerve with our vanity, but also our fears of growing old. This clearly resonates with the anti-aging market as anti-aging products now account for close to 9.8 billion dollars of the skin care market. That's a nearly 109% increase over the past two decades!
While you may want to create the impression you are not concerned about aging, you can take care of your skin with the positive side effect of looking more attractive as you get older. We all want to be comfortable in our own skin, and you can wear your age well by taking simple steps in your daily grooming regimen.
In the right hands, you can naturally get better with age without breaking the bank or taking too much time. Cosmetic procedures for men are designed to help you look refreshed, lifted, and more awake, without it being obvious you had something done. The results you see will have a lot to do with the condition of your skin before you start an anti-aging treatment. If you have pretty much never used anything on your face, you will see dramatic results because you are doing something for your skin.
Although men are less inclined to use sunscreen, moisturizers, and other anti-aging products, if you want to slow down the aging process, you have a plethora of anti-aging skin care options at the National Laser Institute Med Spa. Treatments like chemical peels and photofacials will rejuvenate your skin. Botox will relax unwanted frown lines that develop from certain facial expressions. Dermal fillers will fill in your deep frown lines, erase unwanted crow's feet, raise drooping eyebrows, eliminate deep forehead creases, correct facial asymmetries, and more.
The National Laser Institute Med Spa Is The Number One Choice For Anti-Aging Procedures For Men
If you want to invest in your skin, allow the skin care experts at the National Laser Institute to guide you through your anti-aging options. The National Laser Institute is leading the anti-aging revolution as the premier educational facility in the country, training physicians, nurses, and laser technicians from all over the world in advanced medical aesthetic technologies including laser, IPL, and cosmetic injectables.
With locations in Scottsdale and Dallas, we invite you to visit our training institute for deeply discounted rates on treatments or receive your treatment in our med spa by the experts that teach doctors, nurses, and laser technicians privately.
National Laser Institute Client Reviews
The following reviews reveal real client experiences in both environments and locations.  
"Process was simple. Great customer service and for a great price as well." Cedrick W., Dallas National Laser Institute Med Spa Client

"My experience was great! I was happy to be a part of the learning process! The students, & instructor, provided excellent/professional service! I am pleased with the results. Information on what to expect, was to the point, & correct on every level! Good job, National Laser Institute Med Spa." Karseem J., Scottsdale National Laser Institute Client

"Great experience. I felt very confident with the way the teacher was instructing the students. Awesome job." Michale S., Dallas National Laser Institute Client.

"I received my services on 4/16/16. Upon arriving? I was greeted with a warm friendly hello! I received Botox and Dysport and the trainer along with students, were absolutely perfect! My experience was nothing but wonderful!" Johnny O., Dallas National Laser Institute Client.

"Shelley was fantastic! Very professional and detail oriented. I would highly recommend National Laser Institute Spa and the services that they provide." Joe L., Scottsdale National Laser Institute Med Spa Client.

"Monica, the school instructor, demonstrated my photofacial for the students and was exceptional. Knows her profession, professional and caring behavior, and goes the extra mile for the client. Outstanding experience." Brian J., Scottsdale National Laser Institute Client
Why Choose the National Laser Institute?
We are open 7 days a week with early morning through evening appointments available. Because we are the top training school in the country, we have the very latest equipment on the market often even before doctors in other cities do, so we can effectively train our students to be ready to perform the latest in-demand laser treatments.
Our experts always take time in answering your questions to determine which treatment is best for you. The National Laser Institute offers complimentary consultations. To find out what product or service would be the best fit for your skin, call 800.851.0969 or click here for your free consultation with one of our expert skin care specialists. We also offer destination events in cities like Boston, Philadelphia, Chicago, Nashville, and Beverly Hills. Give us a call to find out when we will be in a city near you!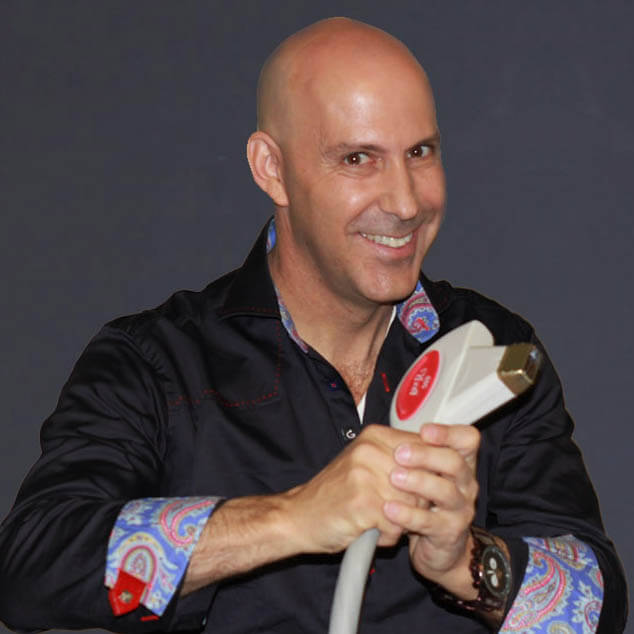 Louis Silberman
Louis J. Silberman is the CEO and Co-Founder of National Laser Institute, the pioneer of the medical aesthetics training industry and one of the largest educators in the country.